In summer 2017, Lisa Spannagel was among the 21 participants of the VBC Summer School. As an advanced student of molecular and technical medicine at the Hochschule Furtwangen, a university of applied sciences, she already started with a practical perspective. We interviewed Lisa to learn more about her research experience at the IMP in the lab of Meinrad Busslinger.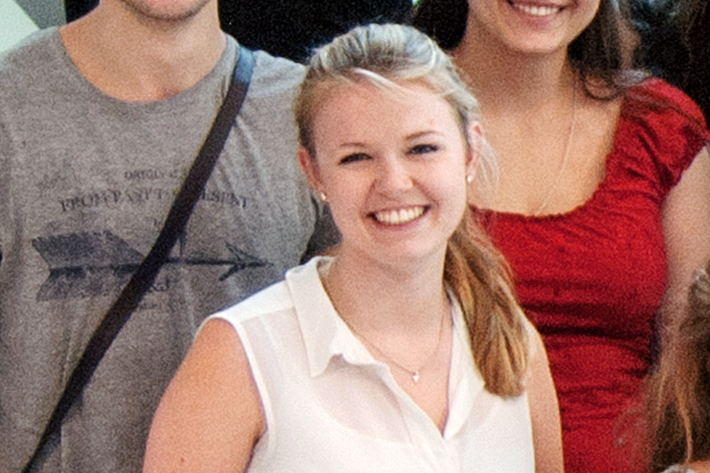 The Hochschule Furtwangen is a university of applied sciences. I study molecular and technical medicine in my 7th semester.
Compared to a regular university, we have one additional semester – the seventh – which is entirely devoted to practical work.
Before coming to Vienna, I just finished my bachelor's thesis and have now completed my bachelor's degree. Originally, I am from Lake Constance. That's also where I will do my master's degree, at the University of Konstanz.
How did you find out about the VBC Summer School?
I had never heard about the VBC Summer School before. Then one of our professors sent us an e-mail and pointed out this program to us. He recommended it warmly and suggested that we try to apply since it would give us the opportunity to gain valuable experience.
So, I applied and one week later I was contacted by my current supervisor, Miri [Miriam Wöhner, postdoc in the Busslinger Lab]. She told me they were interested in me and invited me to chat via Skype. Miri explained her project to me and we decided that it was a great match, so I joined the group of Meinrad Busslinger.
What is your project?
One of the major research focuses in the Busslinger lab is understanding the transition from a mature B cell to an antibody-secreting plasma cell on a molecular level. My project in this lab is to establish a so-called degron-system to study the function of IRF4. The degron-system lets you degrade proteins directly and rapidly in response to auxin. IRF4 is a transcription factor that plays an important role in the differentiation from B cells to antibody-secreting plasma cell.
It is difficult to study, because cells without IRF4 are not viable and cannot be cultivated. With the help of the degron-system, we can degrade IRF4 directly in the cells upon addition of auxin. This way, we will be able to learn more about its function and the target genes. I am optimistic that I will be able to finish the project within the given time.
I really like the project, because I am doing something interesting and useful that hardly anyone in the group has tried before. The system works and we are now trying to optimize and adapt it. It is my own project and I am doing everything myself, with the help of Miri, of course. It feels great because previously, I have always been a small part in a large project and now I am personally responsible.
How do you like the VBC Summer School?
The Summer School is really cool. It is very well organized and as soon as you arrive, you feel integrated into the group and the institute. You get to know interesting people from all over the world. You all work on something different, yet you have a lot in common.
During the week, we attend seminars and talks and we get to look at the theory a bit more in depth. There are guest speakers from different groups and we get an idea of what the others are doing – a bit of everything, really.
We are very well looked after. We all live in the same building and we do many things together. Recently, we introduced the 'international dinners' where each Sunday, a different nation has to cook dinner and the rest enjoy. A great way to get to know each other's cultures.
Last weekend, we went bowling and the week before we had the great dragon-boat competition. That was a fun event at a very idyllic place. Afterwards, we sat together for a long time and enjoyed the peaceful summer evening by the water. I like these activities with the group, but I also appreciate that I have enough time to myself.
What does living in Vienna feel like?
I have been to Vienna before a few times, so it wasn't totally new to me. What strikes me is that the people are really different here. In Germany, everyone seems to be so stressed out. Here, the people are more easy going, more relaxed - and so friendly and helpful. Of course, Vienna as a city is really beautiful, and there is always something new to discover.
I would highly recommend the VBC Summer School. For me, personally, it means gaining a lot of lab-experience and perhaps having the chance to come back to the IMP at a later stage in my career. The IMP is so new and modern, that's an added bonus. In general, I am sure that attending the VBC Summer School boosts your career and looks really good in your CV. After all, there were 1500 applicants, so being among the few chosen ones is a distinction in itself.
Interview conducted in August 2017.
Further reading