In summer 2017, Fedor Gorbenko was one of 21 participants of the VBC Summer School. Then a student of biology at Lomonosov Moscow State University, he worked for his research project in the lab of Alexander Stark at the IMP. We asked Fedor for his opinion on the VBC summer school and to share his impressions with possible applicants.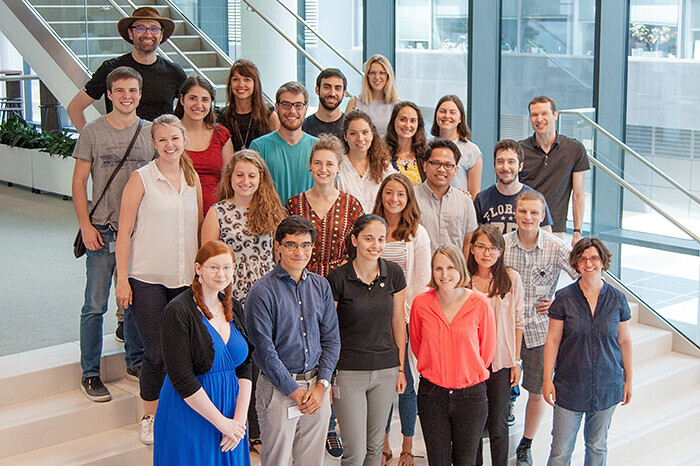 "I am studying biology in my pre-final year. I did my bachelor's degree in genetics in St. Petersburg. From there I moved to Moscow where I am studying molecular biology. More specifically, I am interested in transcriptional regulation.
In Russia, you don't get a lot of information on activities such as summer schools. As a student, you normally spend the summer in the lab and work on your project for the bachelor, and later for the master's degree.
It is not very common to make any sidesteps abroad from the main path that leads to your degree. Of course, it is a bonus on your CV, but almost nobody does it.
I think that Russian students are generally a bit hesitant to go abroad. In the last year or two, this may have changed and it seems to be getting more popular as more students apply to extracurricular programs. I know about 15 to 20 people who applied to a summer school, but only two got accepted into such a program.
There is also a bit of a language barrier. There are not many international conferences and English is not spoken at my institute. Here at the IMP, everyone speaks English in the lab and most students are from outside of Austria. Personally, I have travelled a lot with my family and have taken English lessons with an American teacher, so that helped.
Application to summer school and lab
I found out about summer schools through a friend who encouraged me to apply last winter. I applied to three summer schools and, luckily, I got accepted into this one. Most other programs did not really offer topics that I found exciting.
Before I applied, I already knew I wanted to work with Alex Stark. When I got accepted, I did an interview with Alex and really liked the lab and what they are doing. Alex is very nice and the members of his group are very interesting people.
My research topic here in the Stark group is not exactly what I do at university but it is also within the area of transcriptional regulation. In my project, I was able to work on a newly developed method in the Stark lab, called STAP-seq (Self-Transcribing Active core-Promoter sequencing). This method for the first time allows to measure the responsiveness of core promoters to regulatory inputs, i.e. enhancers on a genome-wide scale [Arnold & Zabidi et al. Nature Biotechnology 2017].
I appreciate the way the Summer School is organized with all those seminars and group meetings. We have two or three group meetings every week… lab meetings, journal clubs… and there is plenty of interaction. We communicate a lot and exchange information about our projects.
One of the most important experiences ever
The whole atmosphere of the institute, especially at the IMP, makes me do my work with great pleasure. I like the common cafeteria, the open office spaces at the IMP. It feels like you don't want to leave this building at all. I really appreciate it.
I like travelling and meeting people from different countries. The participation in the VBC Summer School has turned out to be one of the most important experiences ever for me. I honestly did not expect so much to happen, so much interaction, discussions. We even went on a lab-retreat, which was great.
Now I know for sure that I want to go abroad for my PhD, most likely to some European institute. I do not know a single lab in Russia where I would want to do my PhD."
Interview conducted in July 2017
More information on the VBC Summer School and application form