The new IMP building offers a lecture hall seating 280 people, six meeting rooms and a modern cafeteria. Combine this with the excellent links to the airport and Vienna's public transport, as well as the brainpower of the Vienna Biocenter's 150 research groups, and you have a premium venue for conferences and symposia.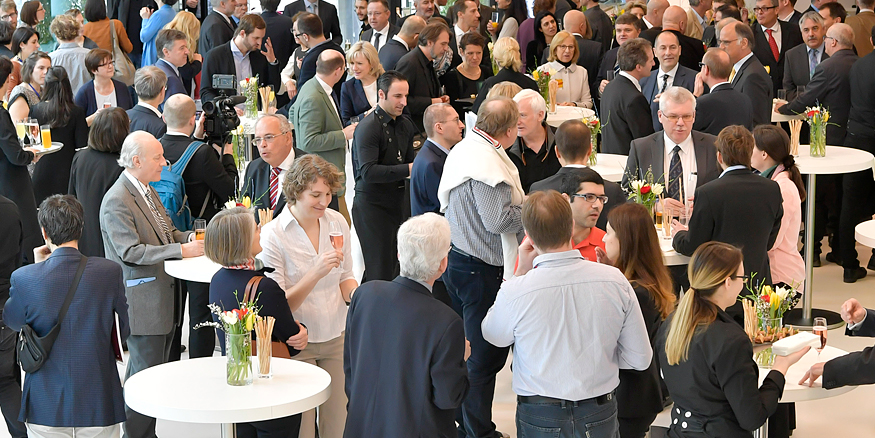 The IMP's facilities and transport links make it an ideal place for large, scientific meetings. Conferences are organised for certain occasions or on specific topics, some symposia are done on a regular basis, and others are planned as unique events. For information on upcoming symposia and other events, you may want to look up our calendar.
With the Vienna Biocenter's reputation as a life-science hub continuously growing, the potential for organising scientific conferences and symposia is likely to be exploited even more in the future.
Conferences
To date, scientific conferences at the IMP or the Vienna Biocenter were organised by groups of scientists or institutes, often in cooperation with scientific societies, such as national academies. With the new IMP building completed, the Vienna Biocenter has become even more attractive as a conference venue and we look forward to possibly extending this section of our website soon.
Symposia
Symposia are series of topical lectures and other formats that are organised periodically. Since 2018, Keystone Symposia are held in the IMP lecture hall in cooperation with the four Vienna BioCenter research institutes.
Other examples would be the "Vienna BioCenter PhD Student Symposium", organised each year by the students of the Vienna BioCenter PhD Program on a topic of their choice; or the annual "Microsymposium on Small RNAs", organised by the RNA research groups of the entire Vienna BioCenter since 2005; a great example of cooperation across the institutes.
For information on upcoming conferences and events, please see our "Seminars & Events Calendar".