Vienna: stuck-up old ladies with little dogs in cafés, red-cheeked men in lederhosen, and historic wedding-cake-style architecture all over the place? Well, yes, but this is only part of the full picture; if you consider moving to Vienna as a scientist from abroad and have not yet experienced the city, you may find a few surprises below.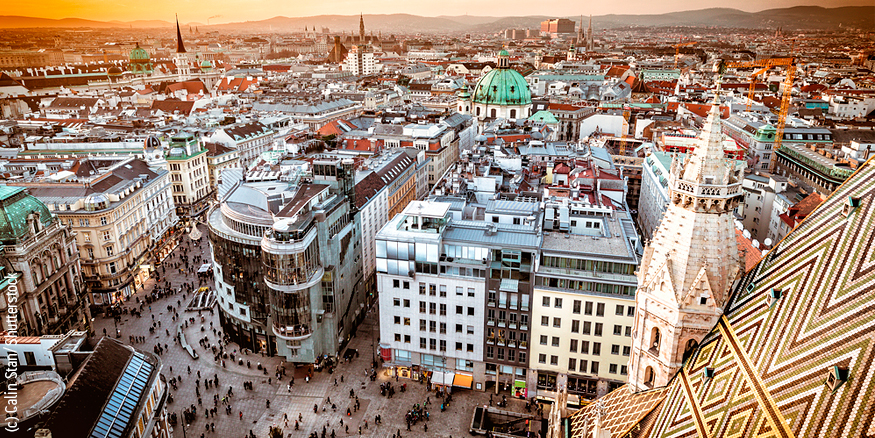 Austria's capital has great offerings that make it attractive – especially for biologists with international backgrounds.
A few facts on Vienna...
...to put the city into perspective:
…half of the population of Vienna has international backgrounds. This is defined as being either foreign-born or having at least one foreign-born parent. With such a colourful crowd, Vienna is one of Europe's most international cities. It is very easy to get around with English; practically everybody has at least a basic command of the language.
…Vienna is young, smart and happening: almost 200,000 university students live in Vienna – they form about 10 percent of the total population. The city's biggest university, the "Universität Wien", is the oldest university in the German-speaking world (innovative since 1365) and accounts for about half of Vienna's students.
…the Vienna Biocenter with its 150 research groups is not the only place where great research is done in Vienna: as of 2022, there are 10 public and 4 private universities, 6 polytechnic universities, research institutes, hospitals, many research-savvy companies and other institutions where research is done. If you consider moving to Vienna with a spouse that would need to find a job in science, then do feel encouraged: we think Vienna may offer the right opportunities.
...with its outstanding quality of life, Vienna has been rated "most livable city in the world" by numerous international rankings, such as the most famous one by Mercer, which frequently placed Vienna at the top of their charts.
…Vienna is the 6th biggest city in the EU after London, Berlin, Madrid, Rome and Paris. It is also one of the fastest growing cities in Europe with entire, new, modern quarters in development.
…Vienna is home to one of the four main United Nations Offices (alongside New York, Geneva and Nairobi), many embassies and international companies. This results in an abundance of international and bilingual schools, an enormous variety of culinary offerings, and excellent connections to the city's airport (getting to the airport is a 12-minute-drive from the IMP and 17 minutes by regional train for the "St. Marx - Vienna Biocenter" station).
…half the city comprises green spaces such as parks, forest or vineyards. Leaving the urban parts of the city is easy with public transport - for which an annual ticket costs a mere 365 EUR.
…the city's cultural offerings are not only among the best in the world (especially in classical music and opera), but also very affordable. For example, most theatres, concert halls and operas sell standing tickets for a few Euro.
Vienna is a great place to live; and to pursue a career as a scientist.
Vienna Business Agency

Vienna Business Agency's "Expat centre" provides plenty of information for moving to and living in Vienna from abroad.
Vienna Wurstelstand

English-language lifestyle, culture and events "blogazine" on Vienna.