Kim Nasmyth was the second director of the IMP. He took over the position from Max Birnstiel in 1997 and held it until 2006, when he became Whitley Professor of Biochemistry at the University of Oxford. During his time at the IMP, Kim Nasmyth shaped the institute's profile and helped to boost its reputation as a leading basic research institution in molecular biology.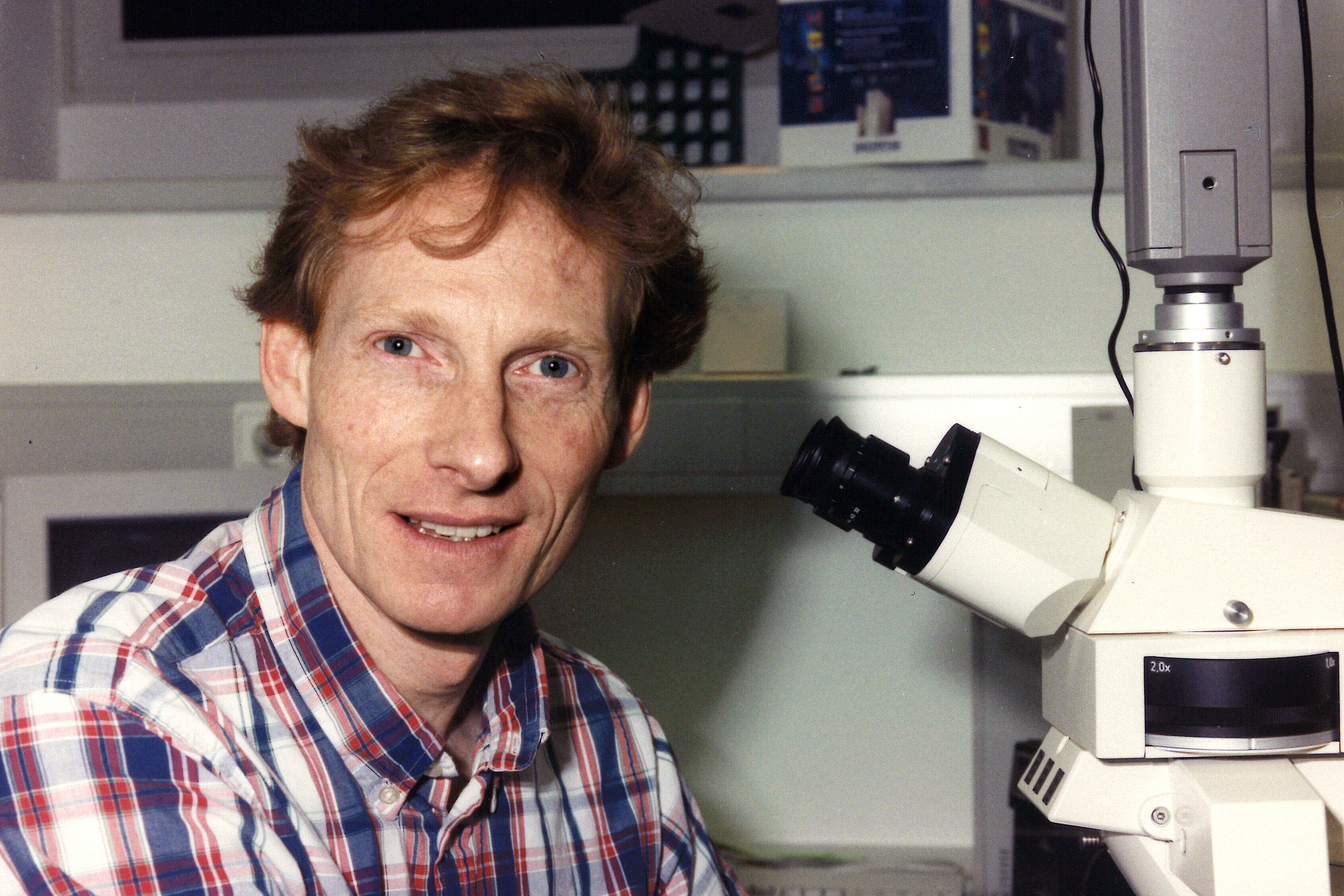 Kim Ashley Nasmyth was born in London in 1952 and educated at Eton College. He studied biology at the University of York and graduated in 1974.
For his PhD research, he joined the lab of Murdoch Mitchison at the University of Edinburgh and focused on cell cycle regulation in yeast – a topic that would remain at the centre of his scientific interest for most of his career.
After four years as a postdoctoral fellow at the University of Washington in Seattle and at Cold Spring Harbor Laboratory in New York, Kim became a staff member at the MRC Laboratory of Molecular Biology in Cambridge.
In 1987, Max Birnstiel recruited Kim Nasmyth to the newly founded Research Institute of Molecular Pathology in Vienna. Rumour has it that it took some persuasion to win Kim (and his wife Anna) over, but his enthusiasm for climbing and skiing and the proximity of the Alps added to Vienna's attraction. As a Senior Scientist, Kim Nasmyth led one of the largest working groups and made significant discoveries.
Among the most important scientific achievements of his team was the discovery of cohesin. This molecular complex is responsible for holding sister chromatids together during cell division until they are ready to separate. Thus, it is a key element in ensuring proper distribution of the genetic material to daughter cells.
Gallery: Emeritus Director Kim Nasmyth
When Max Birnstiel retired in 1997, Kim Nasmyth succeeded him as scientific director. He played an influential role in the IMP's development and helped to nurture scientific talent.
Despite his administrative and leadership tasks, he also remained highly active in research. In 2006, Kim Nasmyth accepted a call to the University of Oxford to take over the prestigious Whitley Chair of Biochemistry. He was succeeded as IMP Scientific Director by Barry Dickson.
For the ensuing five years from 2006, Kim Nasmyth also served as head of the Department of Biochemistry in Oxford. In addition, Kim Nasmyth is a Professorial Fellow in Biochemistry at Trinity College.
His outstanding scientific achievements were honoured by numerous prizes and memberships. Among them are the Breakthrough Prize 2018 in Life Sciences, the Louis Jeantet Prize for Medicine, the Wittgenstein Prize by the Austrian Government, the Golden Medal of the Faculty of Natural Sciences of the Charles University in Prague, the Croonian Lecture/Medal of the Royal Society and the Boveri Award for Molecular Cancer Genetics.
Kim Nasmyth is a fellow of the Royal Society, member of the Austrian Academy of Sciences and of EMBO, and a Foreign Honorary Member of the American Academy of Arts and Sciences.