The IMP takes great pride in the success of its alumni. Former students, postdocs and group leaders, the scientists who once worked at the IMP, form an impressive international network – and are testimony to the IMP's high academic standard. This page celebrates the successes of hard-working researchers who spent a crucial part of their career at the IMP.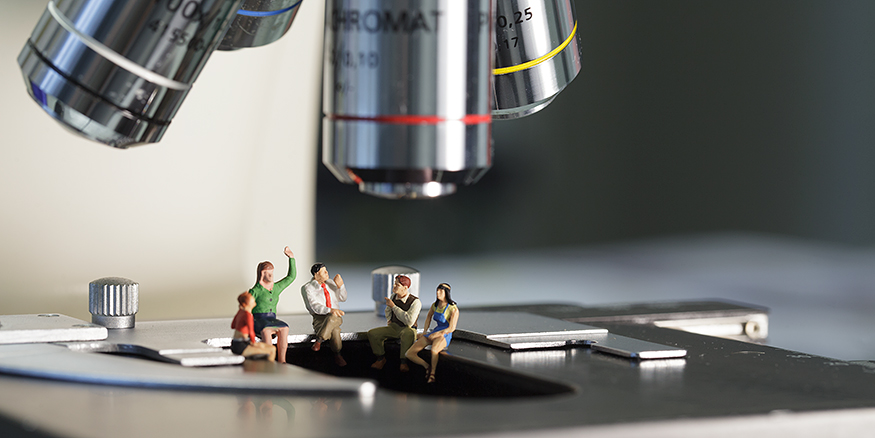 Since the establishment of the IMP in 1985, many academic careers were in part spent at the institute. Today, the IMP has around 250 staff members, which is still small enough to foster a personal atmosphere. As an entity of this size, ties between individuals are strong and we are committed to maintaining close relationships with our alumni.
IMP: empowering scientific careers
If you are reading this page because you consider applying for a job at the IMP, you may also want to look up IMP Alumni on LinkedIn (where you also find a dedicated IMP Alumni Group), browse ResearchGate, or read reviews on Glassdoor. You will quickly find confirmations that research at the IMP empowers scientists to high-flying careers.
Are you an IMP alumnus or alumna?
If you are an IMP alumnus or alumna yourself but are no longer linked to IMP – then please do get in touch! Join our LinkedIn Alumni Group and drop us a line so we can include you in our alumni directory.
IMP Alumni Greetings

A testimonial video with greetings from IMP Alumni first presented on the occasion of the opening of the new IMP building on 1 March 2017.
Portraits of IMP Alumni
The list below leads to a collection of articles and interviews that portray IMP alumni and alumnae from different career tracks. Some of the portraits already appeared in the institute's newsletters over the past years. The "current" refers to the alumni's position as determined in 2017 and later.
Please note that a complete directory of principal investigator alumni can be found in "former groups"; and a detailed account of Angelika Amon's work at the IMP by Kim Nasmyth can be found here to honour her nearly life-long ties with the IMP.
Maria Sibilia
IMP Postdoc 1992 - 1995 (Wagner lab), IMP Staff Scientist 1996 - 1998
Current: Professor for Cellular and Molecular Tumorbiology and Head of the Center for Cancer Research, Medical University of Vienna
Portrait from 2022
Kanaga Sabapathy
IMP Postdoc 1994-1999 (Wagner lab)
Current: Professor / Head of Research Division, Director of Planning and Strategy, National Cancer Centre Singapore
Portrait from 2022
Silke Pichler
IMP Master Student 1995-1997 (Nasmyth lab)
Current: Personal Trainer and Sports Coach, Professional Ironman Triathlete
Portrait from 2021
Snezhka Oliferenko
IMP PhD Student 1996-2000 (Huber lab)
Current: Group Leader, The Francis Crick Institute (UK)
Portrait from 2021
Philipp Selenko
IMP PhD Student 1996-1998 (Jenuwein lab)
Current: Professor at the Weizmann Institute of Science, Israel
Portrait from 2021
Martin Breuss
IMP PhD Student/Postdoc 2009-2015 (Keays lab)
Current: Assistant Professor, University of Colorado
Portrait from 2021
Bernhard Payer
IMP Diploma Student 1999 – 2000 (Busslinger lab)
Current: Junior Group Leader at CRG Barcelona
Portrait from 2021
Giorgio Gilestro
VBC PhD Student 2002 - 2006 (Dickson lab)
Current: Principal Investigator and Senior Lecturer at Imperial College London
Portrait from 2020
Tomyuki Tanaka
IMP Postdoc and staff scientist 1996 - 2001 (Nasmyth lab)
Current: Professor, University of Dundee; Wellcome Trust Principal Research Fellow
Portrait from 2020
Stephen L. Nutt
IMP PhD student and postdoc 1994-1998 (Busslinger lab)
Current: Professor at Walter and Eliza Hall Institute (WEHI)
Portrait from 2019
Andreas Hochwagen
IMP Diploma Student 1999-2000 (Nasmyth lab)
Current: Associate Professor at New York University
Portrait from 2019
Frank Schnorrer
IMP Postdoc 2003 - 2008 (Dickson lab)
Current: Senior Group Leader, IDBM since 2016
Portrait from 2018
Attila Toth
IMP PhD Student 1996 - 2001 (Nasmyth lab)
Current: Group Leader, TU Dresden since 2005,
Heisenberg Professor, TU Dresden since 2015
Portrait from 2018
Mark Petronczki
IMP PhD Student 2000 to 2004 (Nasmyth lab)
IMP Postdoc 2005 to 2007 (Peters lab)
Current: Director New Therapeutic Concept Discovery Oncology, Boehringer Ingelheim
Portrait from 2017
Andrew Straw
IMP Fellow 2010-2015
Current: Professor, University of Freiburg
Portrait from 2017
Camilla Sjögren
IMP Postdoc 1999-2001 (Nasmyth lab)
Current: Professor, Karolinska Institutet
Portrait from 2014
Jörg Betschinger
IMP PhD student 2002-2004 (Knoblich lab)
Current: Group Leader, Friedrich Miescher Institute
Portrait from 2014
Hartmut Vodermaier
IMP PhD student 2000-2004 (Peters lab)
Current: Senior Editor, EMBO Journal
Portrait from 2013
Georg Schneider
IMP Bioinformatician 2001-2007
Current: Managing Director, IST Austria
Portrait from 2013
Christoph Lengauer
IMP Postdoc 1993-1994 (Weith lab)
Current: Executive Vice President, Blueprint Medicines
Portrait from 2012
Andrea Hutterer
IMP PhD student 2002-2006 (Knoblich lab)
Current: Platform Coordinator, Institute Curie
Portrait from 2012
Claudine Kraft
IMP PhD student 2001-2005 (Peters lab)
Current: Group Leader, Max F. Perutz Laboratories (MFPL)
Portrait from 2011
Christian Häring
IMP PhD student 2000-2003 (Nasmyth lab)
IMP Postdoc 2003-2004 (Nasmyth lab)
Current: Group Leader, European Molecular Biology Laboratory (EMBL)
Portrait from 2011
Sarah Bowman
IMP PhD student 2003-2007 (Knoblich lab)
Current: Staff Scientist, Massachusetts General Hospital/Harvard University
Portrait from 2010
Marieke von Lindern
IMP Postdoc 1992-1995 (Beug lab)
Current: Head of the Department, Sanquin Research
Portrait from 2010
Greg Emery
IMP Postdoc 2002-2004 (Knoblich lab)
Current: Associate Professor/PI, Université de Montréal/IRIC
Portrait from 2009
Rafal Ciosk
IMP Postdoc 1999-2000 (Nasmyth lab)
Current: Principal Investigator, Friedrich Miescher Institute
Portrait from 2009
Silke Hauf
IMP Postdoc 1999-2003 (Peters lab)
Current: Assistant Professor, Virginia Tech
Portrait from 2008
Walter Schmidt
IMP Postdoc 1991-1994 (Birnstiel lab)
IMP Staff Scientist 1995-1997 (Birnstiel lab)
Current: CEO, Accanis
Portrait from 2008
Konrad Hochedlinger
IMP Master student 1998-1999 (Wagner lab)
Current: Professor, Harvard University
Portrait from 2008
Frank Uhlmann
IMP Postdoc 1997-2000 (Nasmyth lab)
Current: Group Leader, Francis Crick Institute
Portrait from 2007
Angelika Amon
IMP Master and PhD student 1989-1993 (Nasmyth lab)
Current: Professor, MIT; HHMI Investigator
Portrait from 2007
Giulio Superti-Furga
IMP PhD student 1988-1990 (Busslinger lab)
Current: Scientific Director and CEO of CeMM
Portrait from 2007
---