The inaugural International Birnstiel Award was presented to Emily Bayer, Mohamed El-Brolosy and Justin Silpe during a ceremony at IMP during the Vienna BioCenter PhD Symposium in Vienna (Austria) on 7 and 8 November 2019.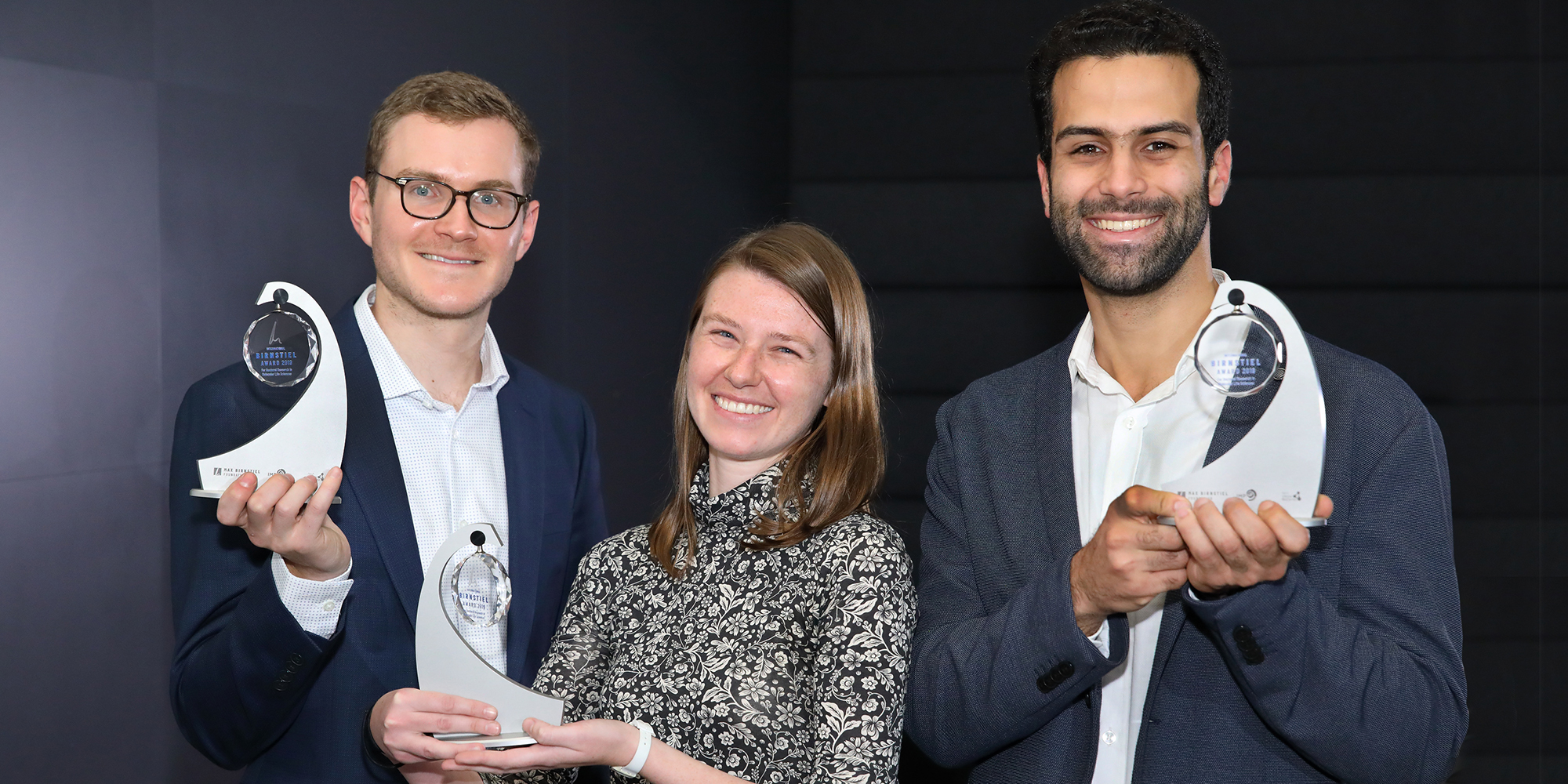 The Birnstiel Award 2019 was presented to three young scientists who stood out from over 100 nominations from four continents. Due to the high quality of the nominations received, the selection committee also highlighted a list of honourable mentions. Winners, honourable mentions and nominating institutions can be found below.
Emily Bayer, Columbia University
Research field: Sex-specific neuronal dimorphism.
Supervisor: Oliver Hobert
Mohamed El-Brolosy, Max Planck Institute for Heart and Lung Research
Research field: Genetic compensation through transcriptional regulation.
Supervisor: Didier Stainier
Justin Silpe, Princeton University
Research field: Molecular communication in viruses, bacteria and eukaryotes.
Supervisor: Bonnie Bassler
You can find the press release with the award announcement here.
The selection committee highlighted eight scientists as "honourable mentions" that deserve special acknowledgement:
Victoria Deneke, Duke University, United States;
Joseph Kalappurakkal, National Center for Biological Sciences (NCBS), India;
Gioele La Manno, Karolinska Institutet, Sweden;
Henry Lee-Six, Wellcome Sanger Institute and University of Cambridge, United Kingdom;
Lukas Milles, Ludwig-Maximilians-Universität (LMU), Germany;
Marcos Francisco Perez, Centre for Genomic Regulation (CRG), Spain;
Barbara Szczerba, University of Basel, Switzerland;
Katharina Weinhäupl, Institut de Biologie Structurale (IBS), France.
Babraham Institute, UK
Biological Research Centre, Hungarian Academy of Sciences, HU
Biozentrum, University of Basel, CH
Boston Children's Hospital, US
Cancer Research UK Cambridge Institute, UK
Center for Genomic Regulation (CRG), ES
Centro de Biologia Molecular Severo Ochoa (CSIC-UAM), ES
Columbia University, US
Duke University Medical Center, US
Deutsches Zentrum für Neurodegenerative Erkrankungen (DZNE), DE
Erasmus MC, NL
European Molecular Biology Laboratory (EMBL), DE/Intl.
Francis Crick Institute, UK
Fred Hutchinson Cancer Research Center, US
Friedrich Miescher Institute for Biomedical Research (FMI), CH
Gene Center, Ludwig-Maximilians-Universität München, DE
German Cancer Research Center (DKFZ), DE
Gurdon Institute, UK
Helmholtz Center Munich and Ludwig-Maximilians University, DE
Humanitas University, IT
Imperial College London, UK
Institut Curie, FR
Institut de Biologie Structurale (IBS), FR
Institute for Research in Biomedicine (IRB Barcelona), ES
Instituto de Medicina Molecular João Lobo Antunes (IMM), PT
Instituto Gulbenkian de Ciência, PT
Johns Hopkins University School of Medicine, US
Karolinska Institute, SE
Lausanne University Hospital, CH
Laval University, CA
LBCMCP UMR 5088, FR
Leuven University (KU Leuven), BE
Lund University, SE
Max Planck Institute for Biophysical Chemistry, DE
Max Planck Institute for Developmental Biology, DE
Max Planck Institute for Evolutionary Anthropology, DE
Max Planck Institute for Heart and Lung Research, DE
Max Planck Institute for Metabolism Research, DE
Max Planck Institute for Molecular Genetics, DE
Max Planck Institute of Biochemistry, DE
Max Planck Institute of Immunobiology and Epigenetics, DE
Max Planck Institute of Molecular Cell Biology and Genetics, DE
MRC Laboratory of Molecular Biology, UK
National Center of Biotechnology (CNB, CSIC), ES
Netherlands Cancer Institute (NKI), NL
Newcastle University, UK
Pompeu Fabra University, ES
Princeton University, US
Radboud University Medical Center, Royal Society of Edinburgh, UK
Research Center of Biotechnology RAS, RU
Sorbonne University, FR
Spanish National Cancer Research Center (CNIO), ES
SRM Institute of Science and Technology, IN
Stockholm University, SE
Tampere University, FI
Tata Institute for Fundamental Research, IN
Technion - Israel Institute of Technology, IL
Tel Aviv University, IL
Telethon Institute of Genetics and Medicine (TIGEM), IT
The Rockefeller University, US
TU Delft, NL
University College London, UK
University of Antwerp, BE
University of Basel, CH
University of Bath, UK
University of Bern, CH
University of Bonn, DE
University of Cambridge, UK
University of Dundee, UK
University of Edinburgh, UK
University of Geneva, CH
University of Helsinki, FI
University of Manchester, UK
University of Manitoba, CA
University of Massachusetts Medical School, US
University of Oxford, UK
University of Sheffield, UK
University of Utrecht, NL
University of Washington, US
University of Western Ontario, CA
University of Würzburg, DE
University of Zurich, CH
Vanderbilt University Medical Center, US
VU University Medical Center, NL
Wageningen University & Research, NL
Walter and Eliza Hall Institute and University of Melbourne, AU
Weizmann Institute of Science, IL
Wellcome - MRC Cambridge Stem Cell Institute, UK
Wellcome Sanger Institute, UK
Yale University, US