Birnstiel Awards are presented annually in a ceremony held at the IMP in Vienna. The awardees show their research and have an opportunity to discuss it with researchers from the IMP an the wider Vienna BioCenter community.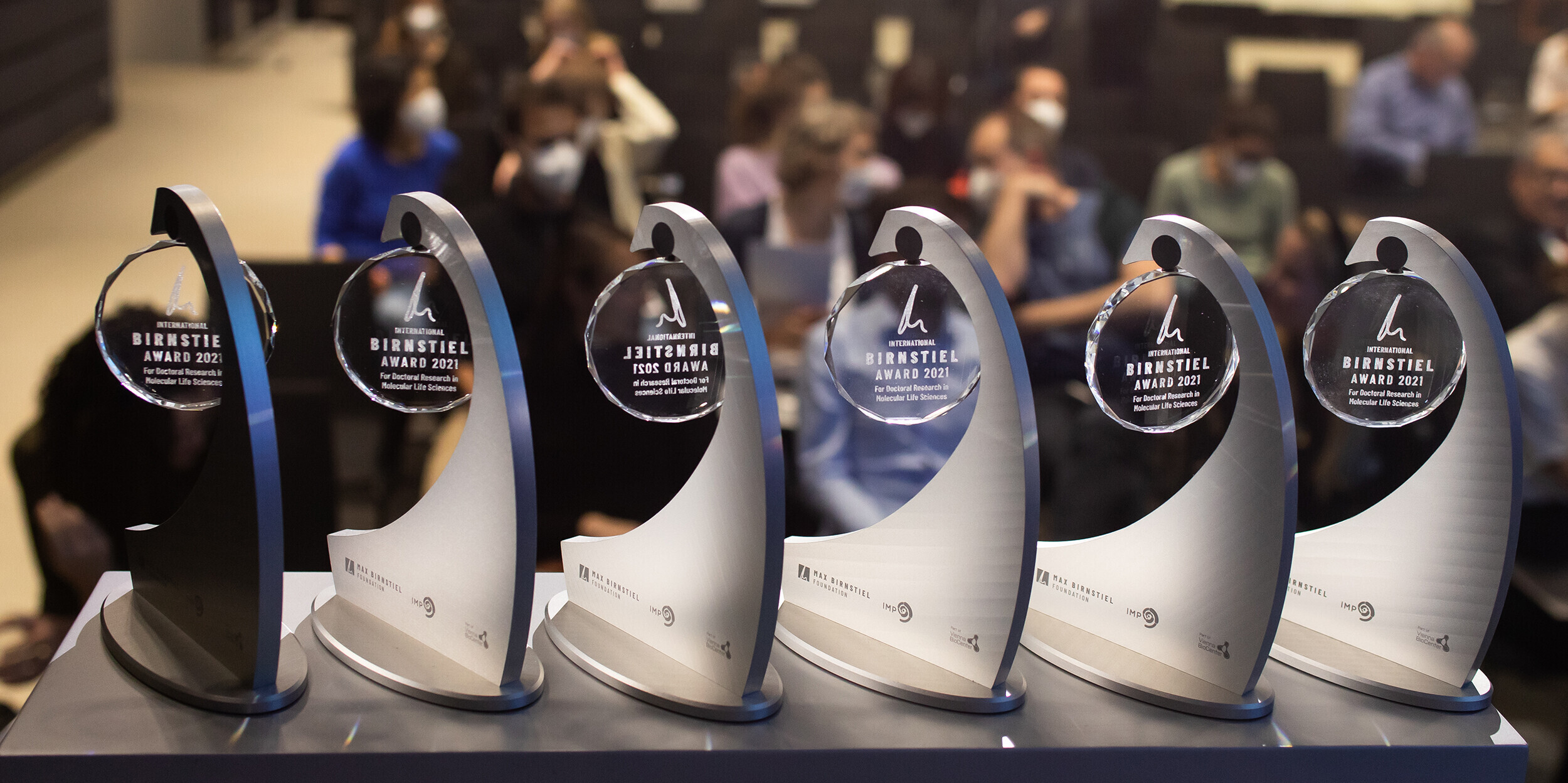 2021 ceremony
In its third edition, the Birnstiel Award 2021 again celebrated outstanding talent from around the world, this time back on-site at the IMP on 2 December 2021: Sanne Boersma (Hubrecht Institute), Fanny Matheis (The Rockefeller University), Adi Millman (Weizmann Institute of Science), Sanne van Neerven (Amsterdam University Medical Centers and Oncode Institute), Kristina Stapornwongkul (University College London/The Francis Crick Institute), and Gregor Weiss (ETH Zurich).
Photos: Ouriel Morgensztern
The awards with trophies and certificates were presented by Meinrad Busslinger (IMP Deputy Director and trustee of the Birnstiel Foundation) and Andrea Pauli (IMP and member of this year's selection panel). The acceptance talks were recorded and can soon be watched here.
2020 ceremony
In 2020, the Covid-19 pandemic did not allow for an award ceremony to be held on-site. The six laureates instead recorded their acceptance talks, trophies and certificates had been mailed to them before then.
2019 ceremony
The first award ceremony of the International Birnstiel Award for Doctoral Research in the Molecular Life Sciences was convened at the IMP lecture hall on 8 November 2019.
Emily Bayer, Mohamed El-Brolosy and Justin Silpe received a trophy and certificate from Margaret Birnstiel. The ceremony was chaired by Meinrad Busslinger, deputy director of the IMP and trustee of the Birnstiel Foundation. Max Birnstiel's widow Margaret Birnstiel - herself a biologist - attended the event and handed over the trophies and certificates.
The acceptance talks were recorded and can be watched here.